The Following article looks at Facebook Business Manager and how to add partners and assets.
If you already have a Business Manager account, then keep reading! However, if you don't have one yet, the first step we like our valued partners to take is to create one, please follow this link to view our step-by-step guide on how to set up a Facebook Business Manager account.
Allowing Neon treehouse Access to Your Business Manager
Follow the steps below to provide us with access to your existing or newly created Facebook Business Manager account:
Step 1: Open your Facebook Business Manager and go to 'Business Settings'
Step 2: Select 'Partners' on the left hand menu and click 'Add'. Insert Neon Treehouse's Business Manager ID: 1670636199857100

Step 3: Now that you've added Neon Treehouse as a partner, you need to assign us assets so we can get to work. Click 'Add Assets'. Once added, you can manage and alter permissions for assets, using the search bar to filter through them.

Step 4: Now you can start adding assets. The images below show you how to add your Facebook page and Facebook Ad Account as assets, allowing us admin access.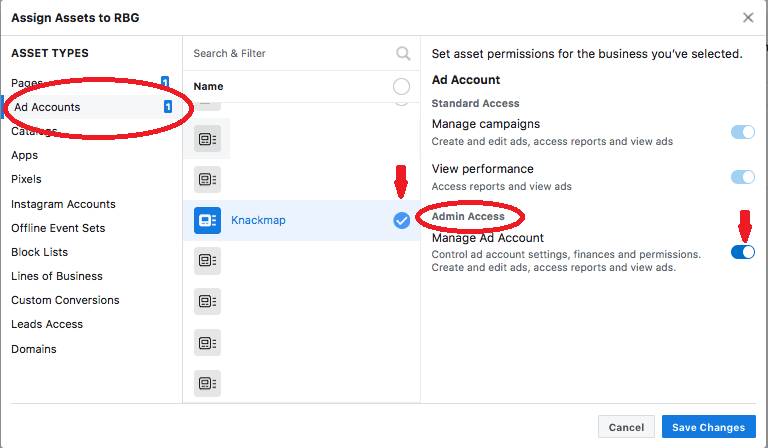 Step 5: Follow the previous steps for all assets that we require from you. If you're ever unsure what we need access to just email us. Although every business won't have the same assets, we commonly need admin access to the accounts above as well as your;
Pages
Ad Accounts
Pixel
Catalogues
Instagram account
All of which can be seen in the left-hand menu of the images in step 4. If you know that you have an asset that is not showing under Asset Types (for example, your Facebook page or Instagram account), you can follow this link and scroll to the appropriate section for a step-by-step guide on how to add existing assets into your Business Manager.
Please let us know once you have completed this step and we will confirm it has been done correctly.