Gluttony Case Study
Gluttony's Spectacular Rise in Ticket Sales
In the vibrant landscape of Adelaide's festival scene, Gluttony has long drawn crowds to its immersive arts venue hub during the annual Adelaide Fringe Festival. Boasting diverse dining precincts, bars, and a wide array of captivating shows spanning comedy, dance, burlesque, magic, and more, Gluttony has carved out a unique niche within the arts and culture sphere.
The 2023 edition of the festival marked a significant milestone for Gluttony, as their ticket sales soared to unprecedented heights. The lively and electric atmosphere of the event was a testament to Gluttony's enduring appeal, and Neon Treehouse was proud to contribute to the success of this beloved South Australian festival.
January x8 ROAS

February x24 ROAS

March x23 ROAS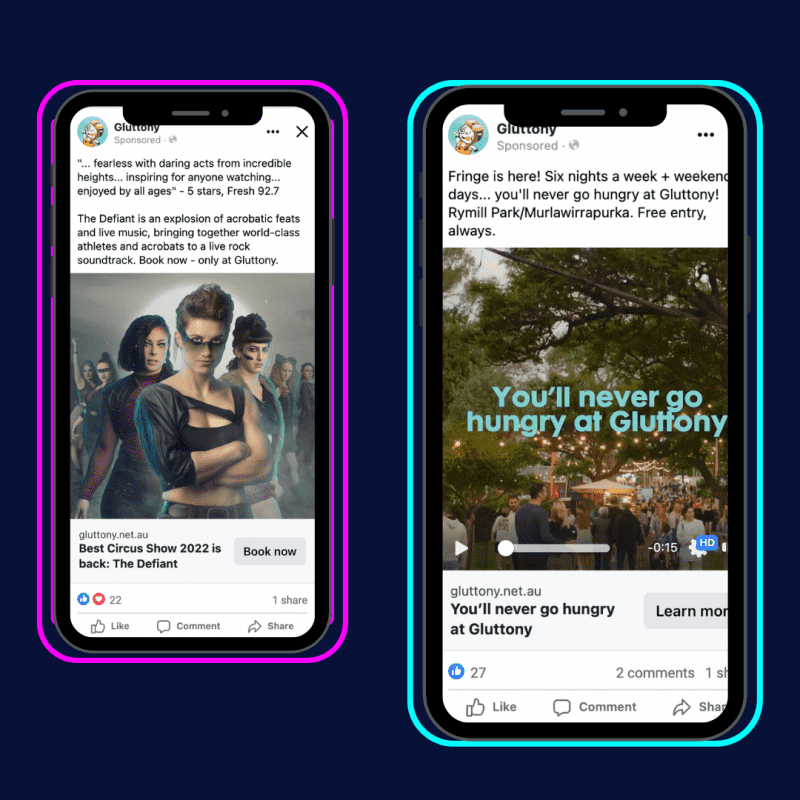 Cubby's Approach: A Digital Partnership for Success
Gluttony recognised that while they excelled in creating an organic festival experience, they needed a strategic boost in the digital realm to maximize their ticket sales and overall visibility. This is where Neon Treehouse stepped in, leveraging their digital marketing expertise to enhance Gluttony's online presence and drive significant results across multiple platforms.
With a strong foothold in the marketing domain, Gluttony had already established their organic efforts. However, recognising that digital advertising was not their forte, they turned to Neon Treehouse to create a comprehensive strategy that would amplify their reach and engagement.
Neon Treehouse's Approach: Crafting Epic Results
Neon Treehouse embarked on a approach to elevate Gluttony's impact during the 2023 Adelaide Fringe Festival. Here's a breakdown of the strategies employed:
Tailored Advertising Campaigns:

Neon Treehouse crafted highly targeted and visually captivating digital ads that resonated with Gluttony's target audience. These ads were strategically placed across various online platforms to ensure maximum exposure.

Platform Diversity:

Recognising the diverse preferences of modern audiences, Neon Treehouse leveraged a range of digital platforms, including Meta, Google, TikTok and Pinterest, to capture the attention of potential festival-goers.

Data-Driven Insights:

We analysed performance metrics and audience behavior to fine-tune the campaign in real-time. This approach ensured that resources were allocated where they yielded the best results, optimising the overall impact of Gluttony's digital presence.
Results: Setting New Benchmarks
The collaboration between Gluttony and Neon Treehouse yielded remarkable outcomes:
Skyrocketing Ticket Sales:

Gluttony experienced a substantial increase in ticket sales compared to previous years, a testament to the effectiveness of the digital advertising campaigns.

Enhanced Visibility:

The tailored advertising campaigns helped Gluttony achieve heightened brand awareness, solidifying its position as a must-visit destination within the festival.

Sustained ROAS Triumph:

Achieving an impressive overall end result of over 30 ROAS for the Gluttony campaign, Neon Treehouse maintained consistently high ROAS levels right from the outset. Starting with a ROAS of 8+ in January, the figures climbed progressively each month, culminating in a substantial surge during the festival's peak event phase.

Engagement Surge:

The engagement rates on Gluttony's digital platforms witnessed a remarkable surge, indicating the resonance of their content and messaging with their target audience.
Conclusion: Elevating Gluttony's Festival Experience
The 2023 Adelaide Fringe Festival marked a milestone moment for Gluttony, as the collaboration with Neon Treehouse propelled them to new heights of success. By strategically harnessing the power of digital advertising, Gluttony not only achieved exceptional ticket sales but also reinforced its status as a premier arts and culture hub within the festival landscape.
The team who worked on this project:

SERVICES PROVIDED
SERVICES PROVIDED

META

GOOGLE

TIKTOK

PINTEREST