For us to gain full access to your existing Pinterest account, and for us to add the appropriate campaign managers to do the job, the following instructions will get us there!
Please see below:
Firstly, you will need to log into your existing Pinterest Account. Use this link to do so.
From here…
Click on the drop-down arrow in the right-hand corner, ensuring that you're in the correct business account (if you have more than one).
Scroll Down and click Business Access. See the image below for reference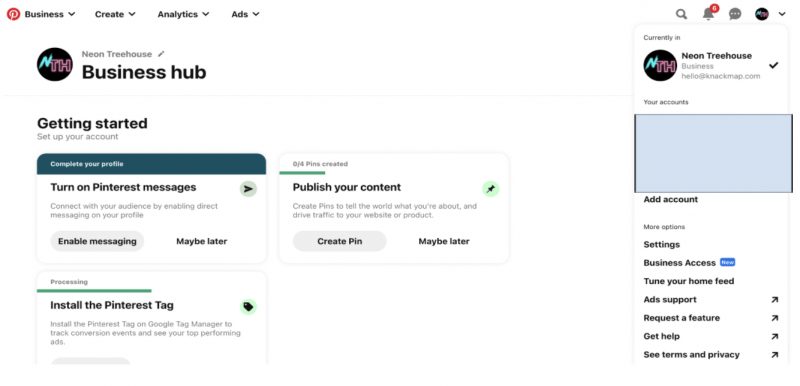 You are now in 'Your Dashboard' where on the left-hand side, there are 'Employee', 'Partners', and 'Ad Accounts' tabs. See below for reference.
Now, let's go through these…

Employee Access:
Click Employees on the left-hand side.
Click 'Add Employees' on the right
Add hello@knackmap.com.
Add us at the 'Manager' Level.
DONE!
Partner Access:
Click on 'Partners' down the left-hand side.
Click 'add partner'.
Add the Business ID: 921408542420771079 to the bar, tick the 'Invite this partner to access your ad accounts and tools', and click 'add partner'.
DONE!
Now we should have the access to get started on your Pinterest account. Thanks for the help!