Apple has announced changes with iOS 14 that will affect how we receive and process conversion events from tools such as Facebook pixel. Taking place in early 2021,  users that have iOS 14 installed on their Apple devices are going to be given a prompt asking if they want to share their data with each of their apps. This is called Apple's app tracking transparency prompt,  and it would look something like this: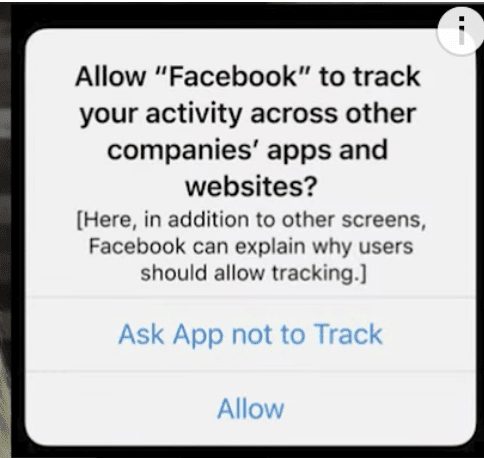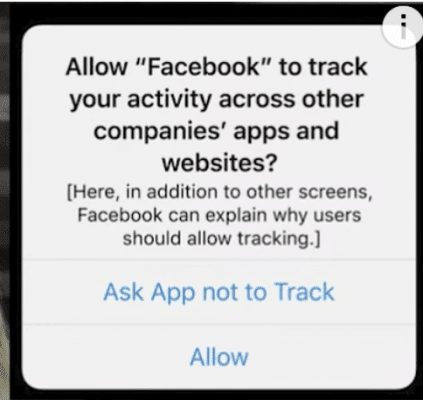 For consumers, this is great as they will have more knowledge about how their data is treated. For those of us that use this data, there could be changes to the way we do business.
WHAT DOES THIS MEAN?
If your client base or targeted consumers are opting out of tracking permissions on their iPhone or Ipad, Facebook will not be able to track the user's web movements on these devices. Say you have an e-commerce store and you use Facebook to re-target people who visit your website. Currently, you might be targeting people that view a product or have added something to their cart on the web but haven't purchased.  The latest update could restrict Facebook's ability to recognise these acts.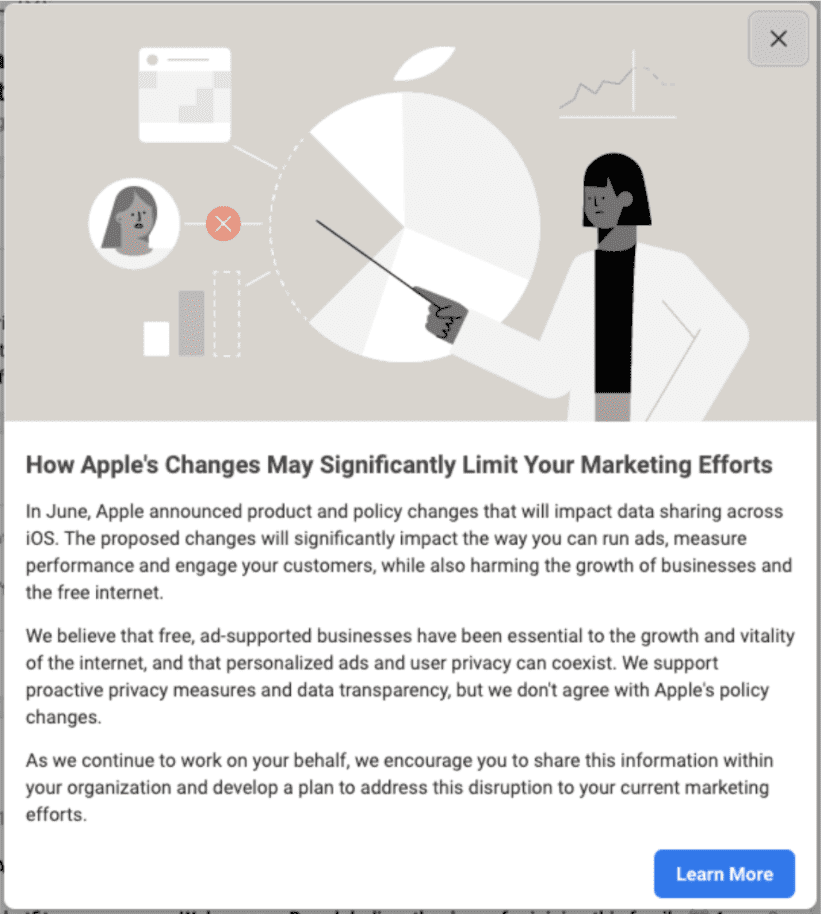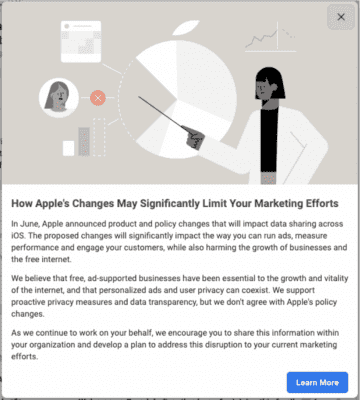 WHAT IS GOING TO HAPPEN?
Though the exact nature of it and how it's going to affect those areas is not totally clear at this time, we ultimately know that any business that advertises mobile apps, in addition to those who optimise, target, and report on web conversion events will be affected.
Targeting
Pixels are normally installed on a website to help businesses track conversions from Facebook ads and build targeted audiences. For example, you could target people interested in your competitors or your broader market segment. However, for those who have disabled it, Facebook will not be able to monitor what users are doing online, which, in essence, would affect how the advertising efforts are targeted. 
Campaign Optimisation 
Facebook relies on data to be able to work out how to improve your campaigns. For example, you design a campaign with the objective of increasing online sales and select "lowest cost per action". After a few days, Facebook will evaluate each ads's performance, cut spending on inefficient ads and allocate the money for other better ads.  If the ability for Facebook to work out what is a conversion and what is not a conversion is diminished, it will affect Facebook's ability to optimise since it cannot see which ads are generating conversions. 
Data Reporting
Now of course to run a successful conversions campaign, you would need to be able to select which conversions you would like tracked, so that Facebook can track the acts that people do on your website. If this feature is affected, the data that will be produced in your reports will not be as reliable as it was before.
WHAT CAN YOU DO ABOUT IT?
As the hitchhiker's guide says, don't panic. We don't know for sure how Apple's new prompt is going to affect our Facebook marketing.
In preparation for the restriction we have formulated a solution to ensure that we accurately and efficiently are still able to target, optimise and report on your advertising efforts.
We would like to recommend the following to ensure that your ads are not interrupted while the transition occurs:
Implement Facebook-Server API Conversion
Implementing Facebook-Server API conversion will allow server events using reporting and optimisation to operate in the same way as browser pixel events. The Conversions API will allow us to send web events from our server directly to Facebook. These server events are also linked to a pixel and will be processed like browser pixel events. 

Verify Your Domain 
Facebook recommends verifying your domain so that your ads are not interrupted when the change is implemented. With Domain Verification, Facebook will know that the website you are editing is genuinely yours and is linked to your Facebook Business Page. Facebook wants to make sure that the information posted on their platform is credible, accurate and comes from a verified source.
WILL THE IOS 14 UPDATE AFFECT GOOGLE ADS?
No, it will not affect your Google ads. We are currently monitoring how Google will respond to this update, but it will not impact Google advertising at this time. This is because Google has modified its application by eliminating the use of IDFA (Identity for Advertiser) that a couple of iOS users are still using for advertising purposes. Other Google apps, such as YouTube and Chrome, will also not be affected by this change, as they will now use other technology to monitor user data instead.
The team at Neon Treehouse will continuously evaluate and put forward new strategies as we learn more about the update. 
If you would like us to implement the above, it would require an investment of $500+GST per website. If you have any queries, please feel free to contact josh@neontreehouse.com to book a time to discuss.