By Lauren Thomas-Nehmy & Michael Chiu
COVID-19 disrupted labour markets across the globe, with
millions
of people out of work or rapidly adjusting to remote and hybrid models.
Remote and hybrid working models are not anything new. In 2019, around 8% of employees* had a formal work-from-home arrangement and worked a median of one day per week from home. However, the onset of the pandemic accelerated these trends, with up to 40% of workers* trialling working from home from September 2019 to September 2021. 
As restrictions begin to ease, governments are encouraging workers to return to the office, yet more Australians want to work from home an average of two days per week. They may get their wish with reports indicating that the forced experiment is here to stay. 
* Focus on office-related workers and jobs that can be feasibly completed at home.
It's not for everyone
Even if a job allows for it, working from home is not for everyone. The nature of the environment can instigate a variety of issues for workers including: 
Non-existent work and home boundaries

Motivation is hard to come by

Distractions

A sense of loneliness

Collaboration with the team is more difficult
For Digital Content Creator at Neon Treehouse, Agnes Martins, working remotely can be difficult.
"I share a house with three people and don't have a specific place to work, my room and my office are the same.
"I also miss the connection with my colleagues. I am an extroverted person and to be in the office space and hear their voices and laughter is a highlight of my job," – Agnes Martins
So far, this article has been focused on workers with the ability to work from home, however,  it is important to consider that not all industries have equal opportunities to introduce a remote or hybrid model. Research by McKinsey & Company shows that COVID-19 elevated the importance of the physical dimension of work. Jobs with the highest physical proximity are more likely to experience the most disruption. During the peak of the pandemic, the virus most severely disturbed medical care, personal care, on-site customer service, leisure and travel.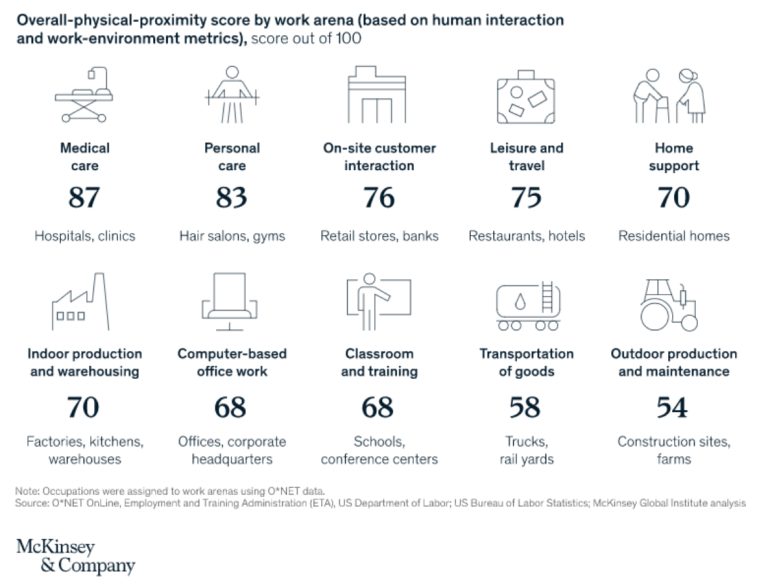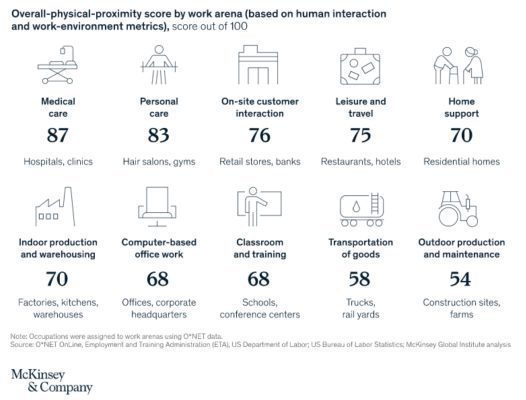 Source: McKinsey & Company
Longer-term, areas with higher physical proximity are also likely to be more unsettled, although proximity is not the only explanation. Other factors include:
On-site customer interaction – this space is defined by frequent interaction with strangers and requires on-site presence.

Travel – is home to customer-facing workers in hotels, restaurants, airports, and entertainment venues.
Changing the physical landscape
The COVID-19 virus has broken through cultural and technological barriers that had previously prevented remote work, setting in motion a structural shift in where and when work takes place. 
Analysis by McKinsey & Company found that more than 20 per cent of the workforce could work remotely three to five days a week as effectively as they could if working from an office. If remote work was implemented at this level, that would result in three to four times as many people working from home than before the pandemic and would have a significant impact on urban economies, transportation and consumer spending.
More people working remotely means fewer people commuting or travelling to different locations for work. This could have significant economic consequences, including on transportation, petrol and auto sales, restaurants and retail in urban centres, demand for office real estate, to name just a few.
These shifts have seen brick and mortar businesses quickly move to online channels, placing an increased focus on successful digital marketing and more opportunities for communications professionals.
The move has accelerated the adoption of digital or digitally enabled products by seven years. In 2020, the share of e-commerce grew at two to five times the rate before COVID-19 and approximately three-quarters of people using digital channels for the first time during the pandemic say they will continue using them in the future.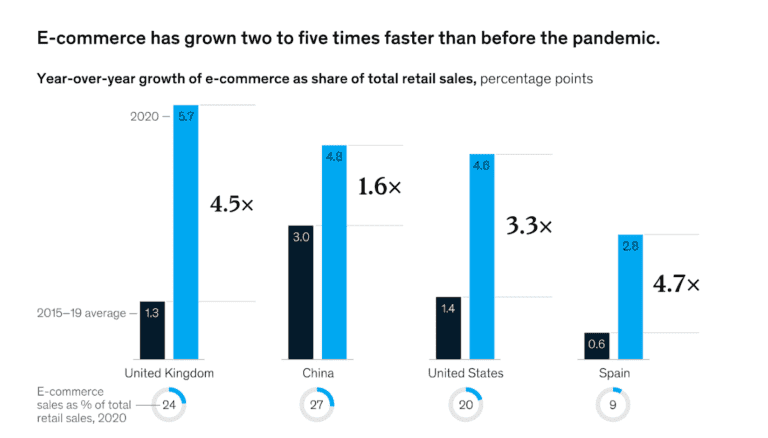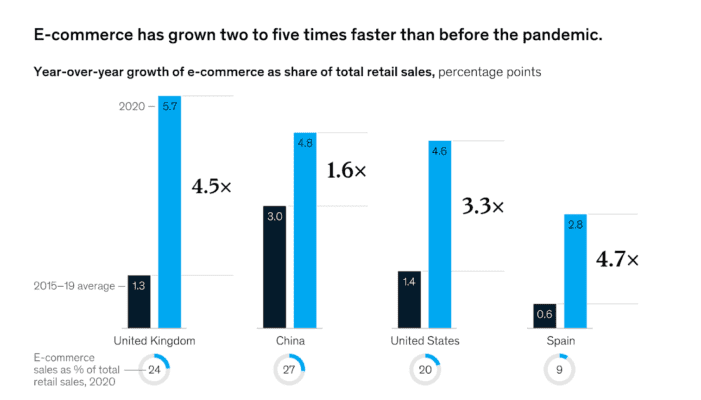 Source: McKinsey & Company
Residential real estate is also not immune from the rise of remote work. 
Workers who have moved cities have provided an opportunity to introduce a supply of experienced and skilled labour to new areas, with the potential to bring prosperity to smaller cities. However, this places pressure on the property market.
The Australian property market has experienced record-breaking highs, with many renters and potential homeowners being squeezed out. 
Client Strategy Manager at Neon Treehouse, Nick Jeavons has experienced the effects first hand.
"Having both sold and bought a property during the pandemic, I feel that I have come out in a net neutral position – selling my existing property for more than expected but also having to pay more for a new property," – Nick Jeavons
Organisations need to adapt 
Navigating the COVID-19 pandemic and its aftermath is one of the biggest business challenges of our time. For many industries, integrating new working models has been the key to staying sustainable. Digital marketing agency, Neon Treehouse moved to an entirely remote workforce in the wake of Adelaide's Omricon wave in late 2021 through to early 2022.
Operations Manager at Neon Treehouse, Bianca Hackman believes remote and hybrid models should stick around.
"Overall a hybrid working model is an efficient, flexible and progressive way of running a business and team. It offers staff flexibility and in turn, promotes staff wellbeing and trust. It also highlights to employees that they do not need to be 'seen' to get the work done.
"Businesses will need to think strategically about how culture can and will be impacted. They need to ensure that culture still exists and pulses throughout the business through staff interactions as it would if you were in the office," – Bianca Hackman
Organisations must adopt a similar outlook or face the repercussions of 'the Great Resignation'. 'The Great Resignation' is a term developed in response to rising resignation rates in the United States that followed the initial years of the COVID pandemic, and Australia is close behind.
More than 600,000 Australians expect to be with a new employer in 2022. Research shows employees value increased wages, more flexibility and the ability to work remotely as conditions needed to accept a counter-offer from their existing employer.
Client Strategy Executive at Neon Treehouse, Riley Densley believes hybrid and remote working arrangements should be included in contracts moving forward.
"I think it increases the standard of wellbeing. It also gives people the freedom to go places without needing to take off work. Although, I think hybrid workplaces function best on the basis of trust and KPIs to ensure efficiency," – Riley Densley
The trend has been influenced by workers rethinking what work means to them, how they are valued and how they spend their time.
Many are sharing their thoughts online, with a focus on family and improved work to life balance.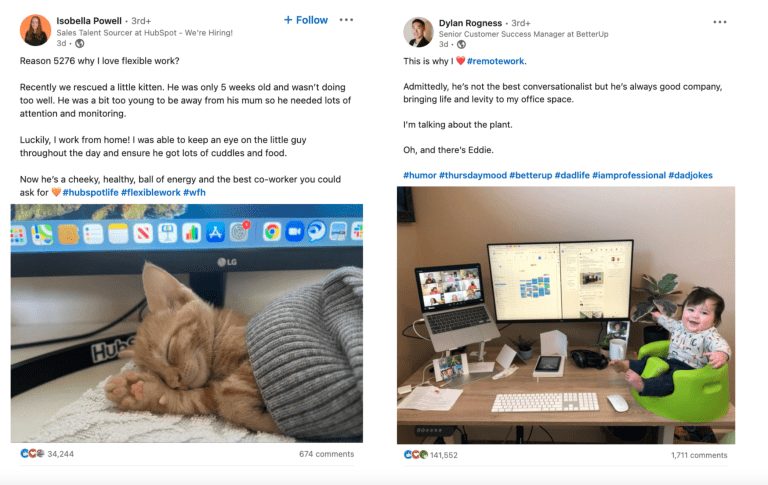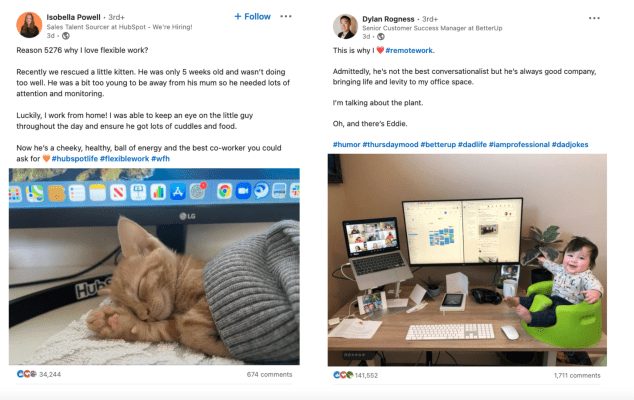 As we enter the third year of the pandemic, the workforce looks very different and continues to change as the world looks ahead to the 'new normal'.