Less than a week after Facebook introduced a shock ban of news content to the feeds of its Australian users, the tech giant has backflipped, reversing the ban yesterday afternoon. The decision is one that most of us did not see coming so quickly. This change only reinforces the idea that the volatile digital environment we all rely upon and function within, is something that is constantly evolving. We don't yet know how this will look when it does return to our feeds as the conversation between the Government and tech giants continues.
Before we got the 'news' that news content would be restored to our feeds, we were looking into how the removal of news on Facebook will impact individual users, businesses and greater society in general. We have created a summary of why news had been removed in the first place, the impact on micro and macro levels and what would most likely happen next. 
As yesterday's announcement has proven, we don't know what tomorrow looks like, let alone the coming months and years for our digital landscape. We need to keep an open mind when operating on powerful platforms, and understand why news was removed in the first place. Keep reading to get the full scope.
Facebook's Response to the Laws
In most pressing news, is Facebook news, or the lack thereof as of Thursday last week. In response to the new proposed Media Bargaining Laws, Facebook has made a shock move overnight to restrict publishers and people in Australia from sharing or viewing any national or international news content.
Whilst news plays a relatively small part in Facebook's greater use (less than 4% of the content people see), it's an important part of a free speech society. For a platform built on connecting people with one another, to not be able to talk about the most current affairs by referencing articles seems quite off-brand to their purpose, despite it's smaller content share.
That's not to say Facebook hasn't been making an effort to come to an agreement. Whilst paying for a license for the content seems off the table for Facebook, some have suggested building dedicated, free tools to support news organisations around the world in innovating their content for online audiences.
In Facebook's announcement about restricting news content, they are firm on their position for news…:
We've long worked toward rules that would encourage innovation and collaboration between digital platforms and news organisations. Unfortunately this legislation does not do that. Instead it seeks to penalise Facebook for content it didn't take or ask for. 

We were prepared to launch Facebook News in Australia and significantly increase our investments with local publishers, however, we were only prepared to do this with the right rules in place. This legislation sets a precedent where the government decides who enters into these news content agreements, and ultimately, how much the party that already receives value from the free service gets paid. We will now prioritise investments to other countries, as part of our plans to invest in new licensing news programs and experiences.
Intended fallout
Facebook outlined a number of restrictions in its announcement. 
– They are restricted from sharing or posting any content on Facebook Pages.
– Admins will still be able to access other features from their Facebook Page, including Page insights and Creator Studio.
– Facebook will continue to provide access to all other standard services, including data tools and CrowdTangle. 
For international publishers this means:
– They can continue to publish news content on Facebook, but links and posts can't be viewed or shared by Australian audiences. 
For our Australian community this means: 
– They cannot view or share Australian or international news content on Facebook or content from Australian and international news pages.  
For our international community this means:
– They cannot view or share Australian news content on Facebook or content from Australian news pages.
Small businesses, government agencies, and publishers suffer in the crossfire
In this quick move, the implications have extended to pages unrelated to the news, with some pages showing messages of "no posts yet" as of Thursday morning. All of these pages previous content and future content until resolved is unviewable. Even Facebook's own profile has been impacted, as well as some government agencies and many small business pages – a complication that could be detrimental to many.
This is where our frustrations are felt and empathy for the broader business community come into play. The fast-paced chess game between government, publishers and tech giants has led to potentially harsh economic impacts to businesses and pages that may have just come out of one of the hardest years of their lives. As an agency, we are actively dealing with the repercussions of this with our clients, but Facebook is not making it easy or quick to see resolve, which is both disheartening and stressful.
As a sidebar, after a few conversations with our direct Facebook Support and not much luck, we've been directed to the Australian News and Publishing Support. This initiative has been set up to deal with the volume of issues related to the changes. Whilst I don't think that the purpose of this page was associated to unrelated pages getting content wiped, it's the most frequent answer we are getting from support as next steps.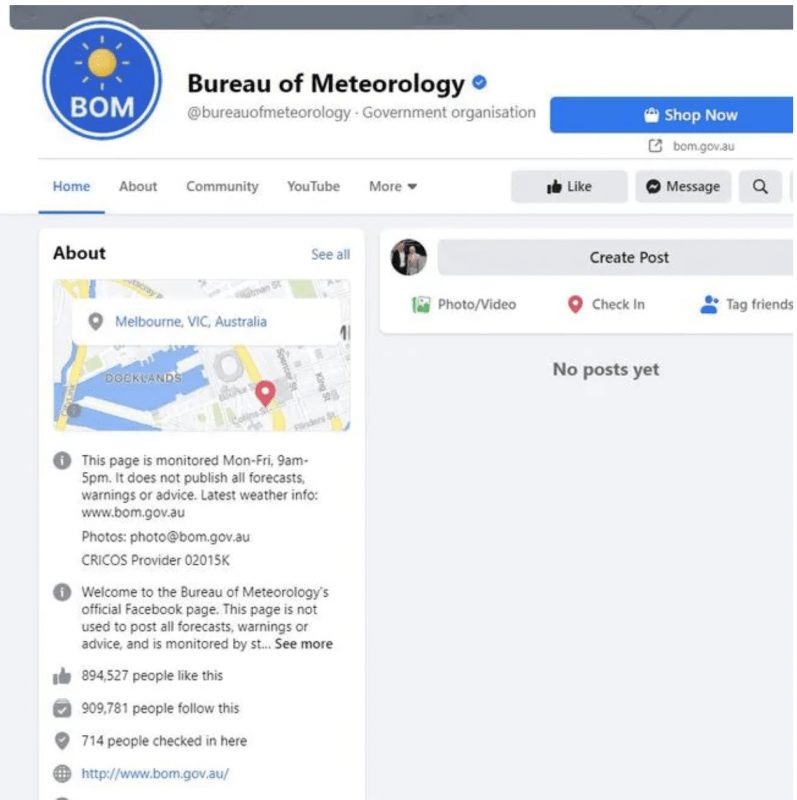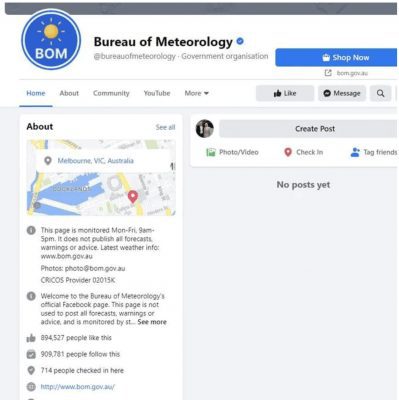 If you think that it's likely that this is just all a bit of huff and puff for Facebook to try and get it's way…well, you wouldn't be alone. 
What's next?
It's clear that there will be some backtracking and sidestepping required on what is considered news vs. relatable trendy content, as well as reinstating Facebook pages which are unrelated to the news.
Further to this, in their public statement, Facebook wrote, "We hope that in the future the Australian Government will recognise the value we already provide and work with us to strengthen, rather than limit our partnerships with publishers". A "your turn" statement if I ever did hear one.
The reality is, the bigger losers in this whole conundrum are the smaller businesses who aren't news publishers who have gone dark over this whole update, as well as the smaller, independent news organisations who aren't backed by larger databases of readers, deep pockets and multiple traffic sources to their website.
Despite much media hype around the dummy spit tactics supposedly actioned on Facebook's side, having news on the platform is not only positive for Facebook's organisation. News publishers generate a lot of traffic from social media, as with Google who are dealing with similar negotiations. This traffic is both paid traffic and earned traffic through to their online platforms assisting with ad revenue. The larger news conglomerates would have you believe that they are being taken advantage of despite having advertising dollars earned as a result of the traffic brought in from these sources, as well as efforts to drive subscribers to their content from social networks.
Why is Google behaving differently?
Google has reacted slightly differently to the debacle. The company has been schmoozing it's way through deals in recent days with Australia's major publishing companies to pay for some of their news content. You can read more about the variations in response in this article from the Washington Post.
The deals have been signed for the new product called Google News Showcase. This initiative is slowly rolling out worldwide, and in an effort to better display journalism on Google's news platform they have already announced a commitment for $1billion in funding over the coming years.
The reality is that news is interacted with very differently on Google than it is on Facebook. Google only has news-related searches accounting for 1% of total searches by Australians in 2019. However, people use Google to find information. They are actively seeking this information and so this content is being displayed as the most relevant content for the user. In continuing to allow people to Google literally anything and find it, Google is able to maintain its brand position and continue to be used as a tool of choice, not having news under their belt may just be the start of this brand fragmentation of "everything…except this, and this, and this."
For Facebook, the purpose around connecting people to what they want means they aren't actively looking for this content, but it's stumbled upon and enjoyed based on the people they are connected with and the businesses they follow.
The solution.
There will be light at the end of the tunnel.
Each party has some value from the other. This issue is very complicated and is not something that will be solved overnight. However, there are both risks and rewards on all sides which need to be considered and that is going to take quite some time to resolve. 
The battle and the war are still to be won in the clash of tech giants vs. the world.