Note: At the end of this article…we've got an amazing offer from a partner business to eradicate the hidden fees of Facebook ads 🙂
Facebook and Instagram are the leading advertising channels for most eCommerce businesses globally. Facebook, LinkedIn, Instagram, Pinterest, Google….all of these platforms are continuing to enjoy the ever-growing use of online in business marketing efforts.
In fact, it goes almost without saying that businesses are now incredibly reliant on what these platforms have to offer them, in terms of communication and engagement with new and existing customers. 
But, the truth is that businesses rely on more than just these platforms. It's online as a whole which is drawing more from the pursestrings than ever before.
In the market we find ourselves in, it is vital for every business to utilise each marketing dollar to its full capability. 
This includes every dollar spent on hidden transaction fees on top of your online marketing and advertising costs. 
With this in mind, you'd want to know if you were paying more than what you'd budgeted for, right?
How to check if you're paying extra fees on Facebook Ads?
Our message to you is that what we are about to describe is happening on more than just Facebook Ads. So carry forward what you learn here to review other platforms that you may be using. 
Despite Facebook charging and invoicing you in AUD, many businesses are paying an additional 3% in foreign transaction fee for this spend. Why? Well, it's mostly due to where you are being charged, and what the local currency is of the charger. The Big 4 Australian banks including CBA, NAB, ANZ and Westpac charge a 3% foreign transaction fee on many of their business card products, which typically applies on transactions charged in a foreign currency. However, this also applies to transactions where the merchant or entity processing the transaction is located outside of Australia, which applies to Facebook. 
Most bank card fee schedules come with a statement like this:
"International transactions are transactions where the merchant, financial institution or entity processing the transaction is located outside Australia. Note: It may not always be clear to you that the Merchant or entity processing the transaction is located outside Australia."
Imagine eliminating these fees and adding an additional $3,000 back into your business from a $100,000 Facebook ad budget.
It's worth checking your card statements for international transaction fees or speaking to your finance team, as it's possible you're forfeiting an additional 3%, on top of your ad spend, that could instead be invested in growth.
See more detail here about what your bank might be charging you for international fees.
Now, let's get those fees back in your pocket!!
Honestly, the solution here is pretty simple. 
After attending an expo in Melbourne, we met with the amazing team at Airwallex. Their product is not only amazing because of its competitive foreign exchange fees, but also because of its capacity to remove the international transaction fees online things like Facebook. 
Remember what I said before about this being an issue on more than just Facebook. Check out this comprehensive, but not an exhaustive list of companies that are charging GST, and the currency they are charging it in. You can see that there is a lot on the list, and you're probably using a few of them. This means the foreign exchange and international transaction fees you can save extend to these services, too!
Airwallex Borderless Cards are a popular option for fast-growing Australian businesses looking to make the most of their ad spend by eliminating card fees altogether.
With Airwallex Borderless Visa cards, you will never see a surprise transaction fee again, with 0% international card transaction fees and $0 annual cardholder fees. Further to this, you'll see here that the FX fees are much more competitive too.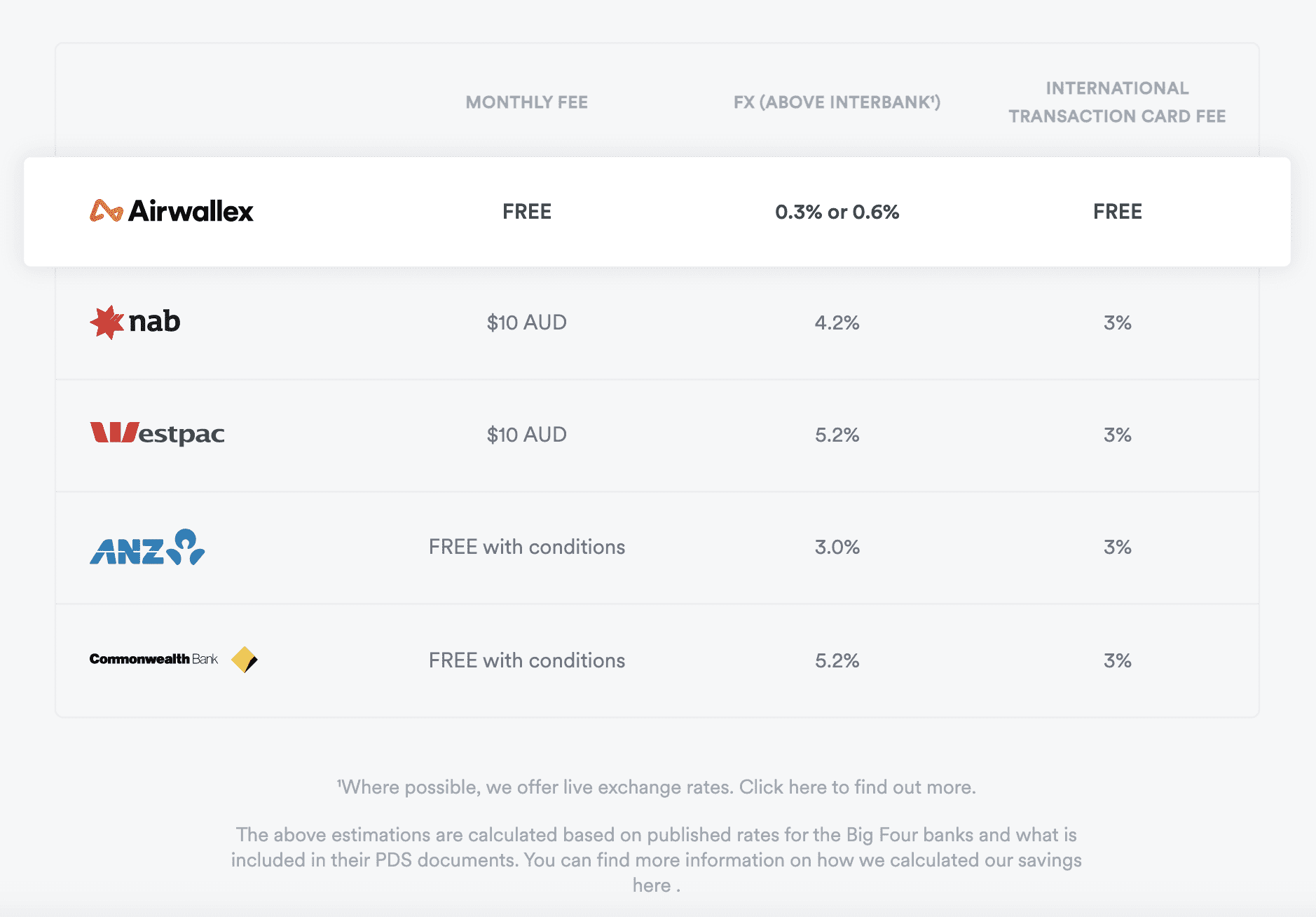 Never blow your marketing budget with set daily, weekly or monthly limits for each card while providing your team full visibility through powerful multi-user access features. Better yet, create dedicated cards in seconds for each advertising channel for greater visibility and control over your budget.
Get started with your Airwallex Borderless Visa cards today with a complete online sign-up experience. Start taking back your marketing budget, and reinvest in growth.
Just for us, to share with our clients, suppliers, and community!
What is it? Well, in addition to:
Borderless cards to remove 3% fees

The most competitive FX pricing

Ability to create and manage multiple cards

Integrations with XERO

Faster overseas payments, including batch processing

Employee and corporate cards

A highly secure platform

And much more…
We've organised a deal for you to receive your first $50K of foreign exchange spend free of charge.
That's a $50K foreign exchange spending. No fees. Free of charge.
That's $0 fees and 0% margin on your first $50,000 AUD in FX conversions (or equivalent)*.
After this, you'll enjoy the continuing benefits and transparent pricing of Airwallex: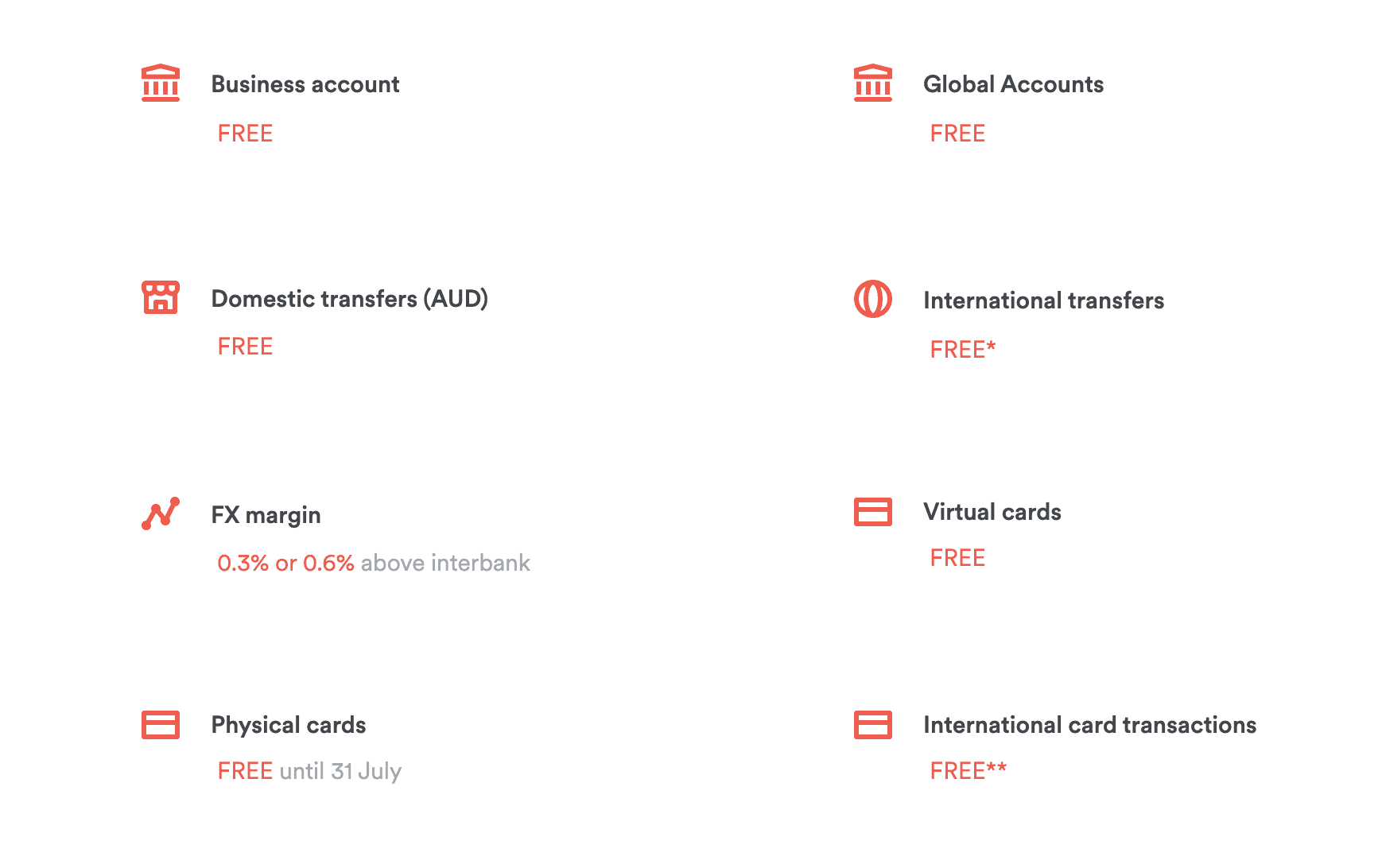 *Where payments are made through Airwallex's payment network there are no payment fees. However, any payments made via the SWIFT network will still incur a payment fee of $10AUD. Click here for more information. **For card transactions, you will access our interbank rates plus a small margin for the following currencies: AUD, USD, GBP, EUR, HKD, CAD, NZD, SGD, THB, JPY, and CHF. For less frequently traded currencies, we will use the Visa rate.
Here is another great part of this. You won't be left alone. Once you sign up, we'll have you introduced to our personal favourites on the Airwallex team. To get you set up, to ensure you can use the platform to its fullest potential!
If signing up through a landing page isn't your thing, just let us know and we can do an email introduction. 
But here's the thing. Even if you don't spend a dollar this month, it's important to jump in and claim the offer before it's gone for good. 
Sources:
https://www.nab.com.au/business/tools/rates-fees-and-charges/business-banking-fees-and-charges

https://www.commbank.com.au/content/dam/commbank/business/pds/003-840-personal-liability-card-fees.pdf

https://www.westpac.com.au/content/dam/public/wbc/documents/pdf/cb/CC_TC_COU.pdf

https://www.anz.com.au/content/dam/anzcomau/documents/pdf/commercial-cards-fees-and-charges.pdf 
For more information on how this was calculated, please visit this page.
Our products and services are provided by Airwallex Pty Ltd ABN 37 609 653 312 who holds AFSL 487221. Any information provided is for general information purposes only and does not take into account your objectives, financial situation or needs. You should consider the appropriateness of the information in light of your own objectives, financial situation or needs. Please read and consider the Product Disclosure Statement before using our services.