Does your Q4 marketing strategy cut the mustard?
It's not too late! Here are our tips including key sales dates that you should consider having in your marketing calendar…
Internationally, 2018 was the 'year of the sale', with online sales events driving a spike in ecommerce growth.
On the back of Black Friday and Cyber Monday success, Australian businesses are investing in key sales events like Click Frenzy to drive business growth like never before. Currently worth $28 billion, Australia's ecommerce market is expected to grow by more than 25% over the next three years to be worth almost $35 billion by 2021! 
Far more than just Black Friday and Cyber Monday, Q4 presents a host of opportunities for your brand to capitalise on the hype around several key calendar sales dates. 
THERE IS BIG Opportunity beyond just the key platforms on the key days
During these peak sales periods, advertisers are flocking to Facebook and other major platforms in droves, driving up competition for ads… and you'll pay more as a result. On the upside, users have their spending caps on so you will see an increase in acquisition metrics. 
That's a great thing! But not all brands have the budget to really go hard in such a competitive market!
Think about the advertising opportunities immediately before and after the key sales dates. There's merit it positioning yourself pre or post sale, rather than just on the day and when everyone else is advertising. 
Giving shoppers exclusive early access to your deals can also be a good way to build up your subscriber list so that each time these shopping events come round, you've got a pre-established audience to focus on. Even if they don't convert this time, you'll have the opportunity to convert them down the line.
Here's an example of what this could look like…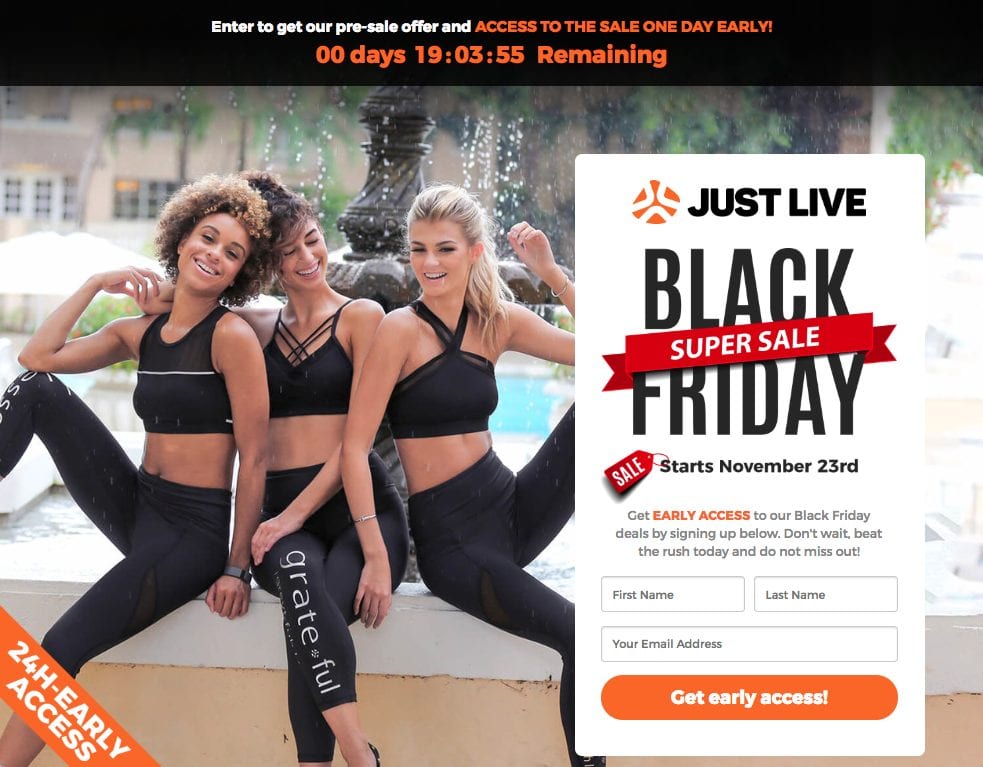 You could combine text message, email, and FB direct messenger campaigns with re-targeting ads to web visitors as your promotion rather than looking for brand new people. This heavily reduces ad spend requirements and ensures you're speaking to a hot audience.
Also, consider ad placements on growing platforms such as Pinterest, Bing, Outbrain or Virool to name a few. Or you could look at direct partnerships with content and media publishers. It's not just about Google and Facebook… reach out, we'd be happy to guide you!
Most major platforms such as Facebook also have inventory caps on their content during peak promotional periods, making planning even more important. Did you know that for the last two years, Facebook has experienced outages on their Business Manager during the Black Friday weekend? Crazy, right!
You can pay for the media, but only bold advertising will get attention
Be ready to deliver impactful messaging. Basic images and unpurposeful messaging will not cut the mustard when users are being bombarded with promotional content from all angles. Be bold. Be brave. Think outside the square.
So here's the rundown on the key sales dates for Q4 in Australia…
Halloween – Thursday October 31 
The 31st of October is the 4th largest online sales holiday in the USA.
You may have noticed the growing popularity of this holiday in Australia… the increased exposure will affect how consumers shop in Oz over this period. Consider getting on board and incorporating this event into your marketing strategy with spooky themed messaging and content. With Halloween 2019 now officially behind us, make sure you think about including this in your calendar for 2020… remember planning is key!
Click Frenzy – Tuesday November 12
How convenient, the biggest Click Frenzy sale of the year lands just in time for Christmas present shopping! 
Fast becoming an Aussie icon, just like its US relatives Black Friday and Cyber Monday, Click Frenzy is gaining exposure on the sales event calendar. Last year, over 1 million Australians headed online to take up deals from over 500 retailers, such as Sony Australia, Big W, eBay, Adidas, Microsoft, Peter Alexander, Rebel, House and Oroton.
How can your brand jump on the back of this excitement? 
People are looking to shop during this time. Consider using terminology similar to event, even if you're not directly involved, it can be a useful format for generating value. 'Go Wild' is the theme for this upcoming Click Frenzy, get creative and incorporate that into your messaging.
Being involved directly with Click Frenzy may also be a worthwhile consideration for your brand!
Black Friday and Cyber Monday – Friday November 29 and Monday December 2
The sales event to end all sales events!
The number of Australians who said they shopped during Black Friday and Cyber Monday grew by 50% from 2017 to 2018. Is your brand onboard for 2019?
Timing is everything. Don't leave your advertising to the last minute. Make sure you have a solid plan in place to start promoting your deals one to two weeks before to increase awareness among your target audience and build your mailing list.
'Our sales are dropping HOT this year for email subscribers ONLY' packs a punch and generates a level of exclusivity around your sale offering, while increasing your pool of subscribers.
As we've already mentioned, if you are experiencing budget constraints, consider the potential of advertising in the lead up to the date when bidding is not at a peak. 'Beat the rush!' and 'Did you miss the buzz?' messaging can convert during a time when shoppers are ready and waiting with their credit cards out.
Early Christmas Shopping
It's well known that Australians start shopping for Christmas in November. Consider November advertising as very important to selling the story/narrative of your brand, with December being promotion focused to people already in the funnel. 
Don't just rely on being a part of the thick of the event.
Boxing Day – Thursday December 26
This is the largest day for online retail activity in Australia providing brands with the opportunity to really finish the year on a high! 
With so much going on in the lead up to Christmas… November sales and the craziness of capitalising on those last minute shoppers (guilty as charged!), don't underestimate the potential around post Christmas sales.
The same strategy should apply to Boxing Day as it does to the sales dates mentioned above. Plan. Plan. Plan. Start your promotional campaigns early, consider bold messaging to stand out from the crowd and work on building your subscriber list early to take the pressure off advertising to a new audience to optimise conversions. 
It shouldn't come as a surprise that most retailers will sell more in the final quarter of the year and the early weeks of the first quarter than the other three quarters combined (often doubling!)…. What will Q4 bring for your business?
We always love a good chat around strategy, so please feel free to reach out if you need to bounce some ideas off us!